beauty
zoella
Zoella 'Tutti Frutti' Beauty Collection
11:51
For those of you who don't know who Zoella is she is a UK beauty blogger and well known Youtube star named Zoe Sugg. I have been watchi...
For those of you who don't know who Zoella is she is a UK beauty blogger and well known Youtube star named Zoe Sugg. I have been watching her videos for about 4/5 years and I can safely say i'm obsessed with her. I love everything about her and I can't thank my friend Hannah enough for introducing her to me.
Now I love everything about beauty anyway so it's always good to have people you watch on Youtube who can introduce you to new products and teach you different things. I know that there's days where I spend hours watching new tutorials or 'favourite' and 'haul' videos from the likes of Zoella and Pixiwoo whether that be with skin products, hair products, brushes, make up bags etc. I personally always like to read their reviews of products before I get them and I trust their judgements.
However when the people you watch and trust bring out their own beauty products it's the most intensely amazing thing. The first well known Youtuber's to bring out a collection was Pixiwoo who created the flawless Real Techniques make up brushes which is now a very well respected brand. There was also 'A Model Recommends' Ruth Crilly who brought out the COLAB Dry Shampoo collection and of course Tanya Burr with her nail varnish and lipgloss beauty range. This left a market open for skin products such as shower and bath treats and Zoella is easily one of the most popular Youtubers out there at this moment, especially in the UK, so she was the perfect choice.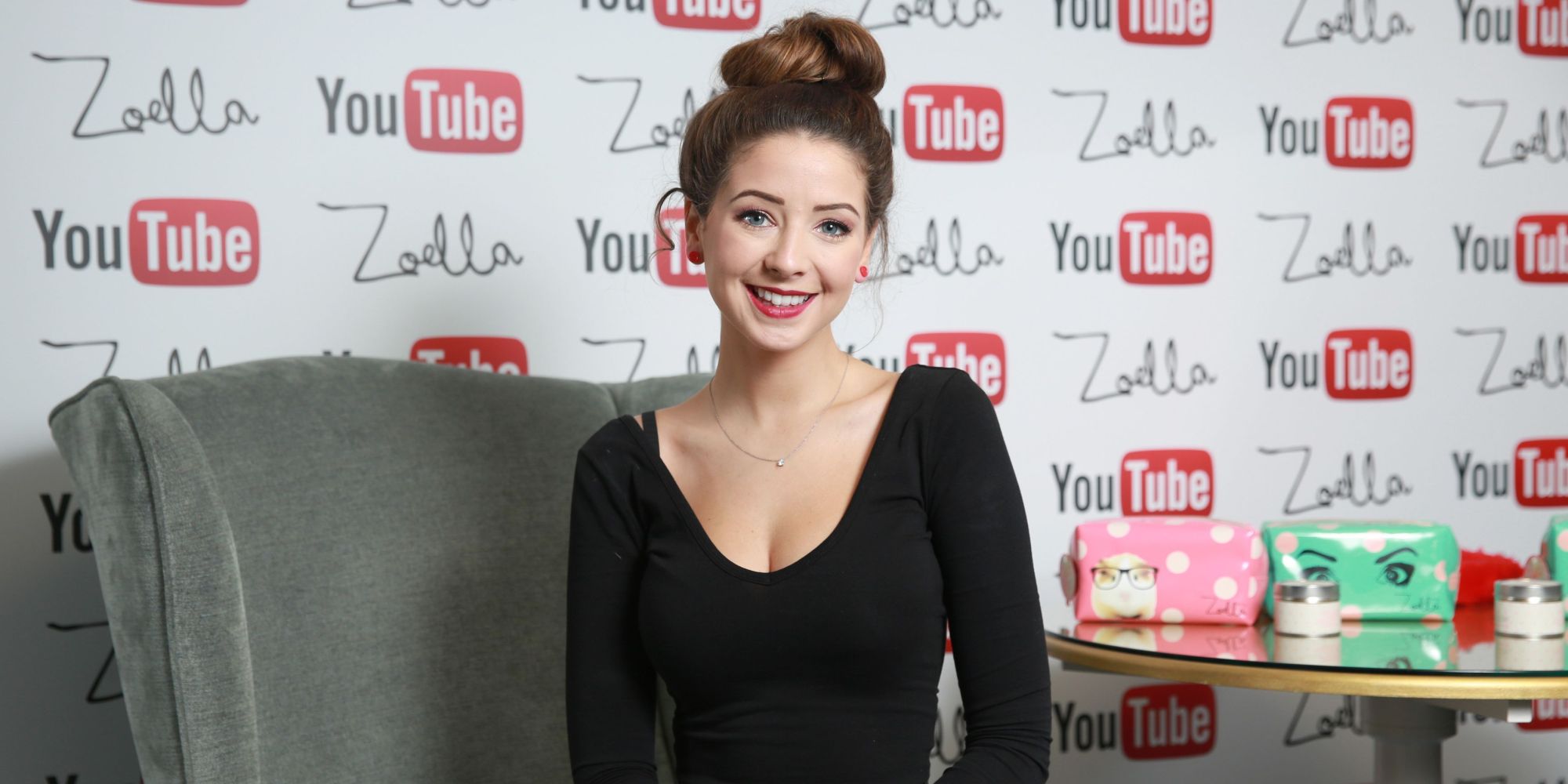 She brought out her first collection 'Zoella Beauty' in September 2014 and this collection was pretty and a really simple and floral, fresh collection. Obviously I bought some of the products because I wanted to try them and I really enjoyed them, however the only product I have repurchased is the 'Fizz Bar'. Saying that, I have bought a lot of people her products as presents!
She brought out a body mist, a body cream, shower cream, candle, fizz bar and cosmetic bags.
I especially love the 'Fizz Bar' which is just like a fizzy bath bomb and 'Soak Opera' which is a shower gel/bubble bath. However the bubbles will only appear if you have fast running water.
Her first line of products were a very fresh scent and it was very pretty and will be lovely in the summer, however they just weren't wow for me and they were similar to any other bath and beauty brand. I definitely recommend them for people who don't want too perfumed a scent and like things quite floral. However i'm a sucker for citrus and fresh in your face products. A couple of months later she brought out another cosmetic bag and I thought maybe she's just going to stick to that kind of product and just bring something out every now and again.
I was obviously wrong! I was browsing through Youtube the next day and discovered she had done a blog discussing her new beauty products and I knew instantly that I needed to try these out and I could not wait to get my hands on them.
I wanted to try the whole collection out but obviously after last time I learnt that I need to test out the scent of the product first. I knew it was going to be 'Tutti Frutti' as that was the name and theme of the new products however I was still uncertain and didn't know if the products would all have a different scent. When watching the video of Zoella introducing her new products there were three things that really stood out for me and that was the little cosmetic coin purse, the body scrub and the lip balm. I could not WAIT to get my hands on those three products, I even put the release date in my calendar. Yet still in the back of my mind something told me I would hate it.
When he release date arrived I picked up these reasonably priced goodies on
Feel Unique
as for some reason Superdrug never lets me order online, to the point where i've gave up trying to order from there completely. So luckily when I ordered off Feel Unique they had a 15% offer code AND free delivery (which makes me wish I had picked up the whole lot). I bought four products:
Cosmetic/Coin Purse
I picked up this little bag because it's completely different to the other three she has in her collection. This little bag is so sweet and small and is perfect for the random stuff that I have lying around my bag. The amount of times I will randomly find 5 lip products or 10 hair clips or 15 5pence coins in the bottom of my bag in my monthly clear up is just ridiculous. This little purse was more on an investment and tidy up for me! The packaging is lovely and it's that waterproof material so I feel safe having important documents like my passport or train tickets etc. shoved in their just incase it rains or a drink spills.
If you work long days and you're always having to carry around a lot of random little things that you feel like you need quick access to at all times then I definitely recommend picking up this purse. Even if it's not this specific one I would invest in a little 'random shit' purse and this one only costs £6.00.
Foam Sweet Foam Cleansing Shower Gel
Now I don't need anymore shower gels as I have a LOT already and i'm completely in love with Soap & Glory products and that will never change. However this shower gel was only £3.50 so I thought for the sake of a couple of pounds I might as well pick it up and try it out. Comparing this to the shower gel Zoella brought our in her original range 'Soak Opera' it is a much smaller bottle, but it's also only a shower gel and not a bath soak too. It's also a very convenient size for travelling as it's not too big and it's not too small. It's also a much nicer consistency and not as thick and creamy like the 'Soak Opera'. For me this has already out done the previous shower gel as the smell is just divine. It is completely not what I was expecting. It still has that fresh floral tint that the original line holds but it has that fruity scent to it that just makes it smell all the more amazing. The smell in general reminds me of the smell of hairdressers shampoo and conditioners - that lovely pampering smell that you look forward to smelling whilst treating yourself to a hair cut.
This product also feels lovely on your skin and the smell gives you that urge to smother the whole bottle all over your body. It also compliments the scrub very well and when used together they leave the most beautiful long lasting scent on your skin which quite a few products don't.
Again, this product is only £3.50 so even if you don't like the smell it's not like you're losing out on any money.
Scrubbing Me Softly Smoothing Body Scrub
This was personally my favourite product and I knew instantly that I needed this. I'm a big fake tanner and after a while my skin starts to get extremely dry and I tend to get patches where fake tan has rubbed off more than other places. I have tried using scrubs in the past but i've found that I tend to use a lot of salt based scrubs and it has a tendency to dry my skin out even more so than before. This makes me just not want to use scrubs at all. However it is coming up to Summer and it has been extremely warm at the moment so i've been needing a new scrub for the days my tan hates me. My first thoughts on this product was 'you can tell this is sugar'. It is a lovely feeling and much more kinder to your skin than any salt based product. I feel with certain salt scrubs they can feel like they're taking layers of your skin off and it hurts your hands to rub into your skin - Zoella's scrub did not do that at all. It was a dream to apply and it leaves your skin with a lovely fresh softness which is helped by the cocoa butter.
I definitely recommend this product if you have quite dry skin but don't want the hassle of an intense scrub as if you use this every day or every other day it just gives your skin that lovely detox and moisture that it needed. The only negative to this product is that when you use it all you want to do is lather yourself in the moisturiser and I annoyingly didn't pick it up! This product is £7.00 making it one of the more expensive items but even at £7 you can't complain as it's still an affordable price, especially when the product your paying for is actually worth the money.
Kissy Missy Lip Balm
Another of Zoella's new products that weren't available in the previous collection was the lip balm. This lip balm smells delightful! It's a mixture of the fresh fruity scents of the collection mixed with a vanillary/crayon scent and when on your lips reminds me of rhubarb and custard sweets.
My first opinions were 'I need to get a lip brush' as it is an odd sticky consistency and as it does have a colour tint in it you would need somewhere to wash your hands after applying.
The colour is not as build-able as I thought it would be but it is still the prettiest pink. It definitely suits tanned skin more than white skin so is the perfect lip balm just to chuck in your hand luggage on holiday. It is the prettiest shade of pink and perfect for all occasions, it's a 'your lips but better' shade if you apply a small amount.
The lip balm in general feels lovely on your lips and doesn't dry out quickly so there's no need to re-apply every five minutes and seems very moisturising although does have a sticky texture.
This lip balm for me is the most build-able brand and I believe that Zoella could do a lot with the collection and bring out a few more colours (I would personally love that) especially since the product itself is only £3.00 and is extremely affordable.
My favourite product out of the collection is without a doubt the 'Scrubbing Me Softly' body scrub as it just left my skin feeling amazing and all of the products I picked up will definitely be re-purchased. The smell is fresh and fruity and perfect for hot weather when you just feel gross and sticky as it gives you that lift you need. I can't wait to get a hold of the products that I didn't purchase and I am desperate for the Body Spray as it's easy to pop in your bag and carry the freshness around with you!
Out of all I give this collection a good 9/10! It's affordable, adorable packaging, smells amazing, works well and has been created by an idol to many. I am so excited to see the brand expand and see what Zoella and her team come up with next!